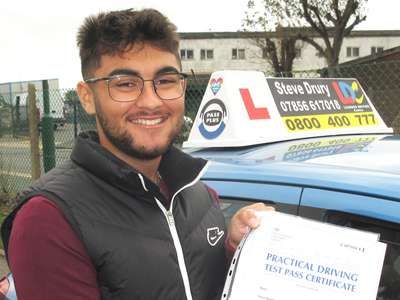 Varun Mahatme
Excellent Confident Drive - First Time Pass
I recommend Steve as a driving instructor for all types of learners. I was initially quite worried and nervous driving however Steve was very reassuring and informative. He had a great balance which was highly appreciated. Due to the pandemic I had been learning with Steve on and off for a year (due to lockdowns) however, I passed my test first time even with all the Covid disruptions! Steve was very professional, accommodating and forward thinking. To the point where before my test, we 'scouted' and practised in the area of the test centre so I was familiar with it. I found this to be unique to him and found it severely helped myself with passing first time! Thanks Steve
Carly Hilts
Refreshed and Reinvigorated, after not driving for 10 years
I passed my test before going to university, but not long after graduating I moved to London and had little need to drive. Fast forward more than a decade and I had become very rusty – and, never having been a keen driver in the first place, had lost all my confidence. I approached Steve to do some refresher lessons as he was recommended as a patient instructor who was good with nervous drivers. Those testimonials weren't lying – Steve has the patience of a saint. In our early lessons I was very anxious, frequently tearful, and very hesitant at junctions and roundabouts. Steve's kindness when I was fretting; calm, clear instructions during lessons; willingness to go through techniques over and over again when I was struggling to grasp something; and encouragement when things were going well, proved to be exactly what I needed. From being frightened to get back behind the wheel, I'm now driving hundreds of miles to visit family, undeterred by busy motorways.
Steve is little short of a miracle worker. The method's Steve uses are great for consolidating learning. He would send me useful videos and reading to go through before lessons, and we had a thorough debrief after each lesson to discuss what had gone well and what needed further work. I really appreciated how much input I had into the structure of lessons and what we would do next, including the flexibility to change plans on the day.
The LDC workbook was also particularly helpful in encouraging me to assess my own progress. I liked how it gets you to set goals and think about how you might achieve them, and to reflect on how each lesson has gone. This methodical approach did much to help ease me back into techniques that I had forgotten, and to gradually build confidence through repetition and increased familiarity. When I started my lessons with Steve, I honestly dreaded driving and I never dreamed that I would be happily volunteering to take the wheel for such long journeys as I'm doing now. Thanks, Steve – you really have worked magic.
Samuel Perkins
First Time Pass with a Confident Drive
Steve is a great instructor. He is excellent at explaining the processes and techniques required to pass the practical test, but he also gives more in-depth information that will help you to drive after having passed. I used the LD system frequently prior to the theory test and the workbook was able to remind me of any specifics that I had forgotten. Therefore, I would highly recommend Steve to anyone who wants to learn to drive.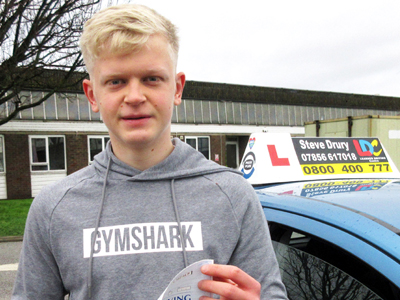 Andrew Younger
Well Deserved First Time Pass
Steve is an excellent instructor. He enables you to quickly and easily learn the rules of the road at a speed that suits you. His theory alongside the videos that he sent were extremely helpful and allowed me to get to grips with driving a lot quicker. In a difficult year he was able to accommodate me and my lessons around college , but also lockdowns that happened throughout the time I was learning. I always felt that I learned something every lesson and this was backed up by the LDC learning system that reassured me I was making progress towards my end goal. Lastly the book that I received at the start included many diagrams and explanations that helped me along with the practical work. I would highly recommend Steve for anyone looking to start learning to drive.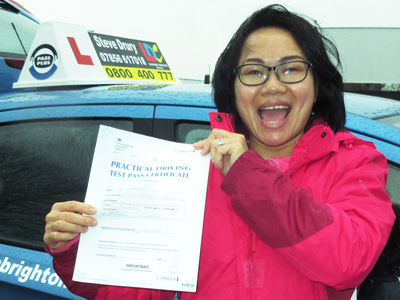 Jenny Fang
Jenny's Confident First Time Pass
Jenny Fang 🤩🤩🤩🤩🤩 Steve is very calm patient and understanding instructor. He knew I was nervous of driving but managed to keep me calm and succeed in passing. The workbook and videos he supplied were very useful tools to prepare for the theory and practical exams. He's also a very good teacher and a friend for life. I must say that the fact he was the one that told me I was ready to take the exam, proved he is there to help you pass the test and not just drag it out lesson after lesson. So a massive thank you to you Steve, my first and only one, a great instructor.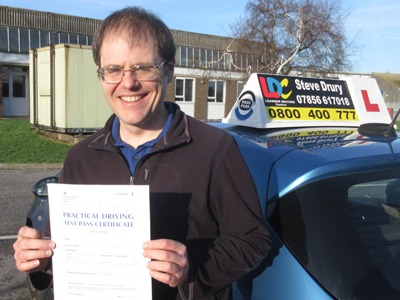 Denzell Richards
A Confident Drive and First Time Pass
Steve is an excellent instructor and I highly recommend him to others. Calm and patient, he quickly recognised the best pace for me to progress in a way which built my skills and confidence. He gave really thoughtful and useful advice about all aspects of learning to drive, the test, and what comes after. He was really flexible and accommodating with lesson times, and very responsive my nerves and other concerns. The LD System worked very well, helping me to understand and visualise the different sets of skills and awareness needed to get started and progress in a clear, step-by-step fashion. This preparation allowed me to get stuck-in straightaway during the lessons themselves, and also helped a lot between lessons reflecting on my progress and identifying where and how I could improve.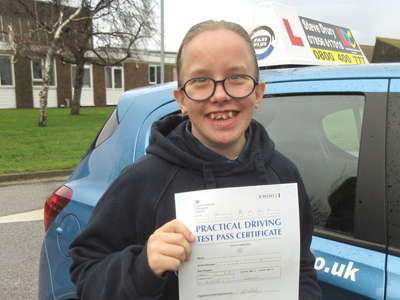 Heather Currie
A Confident First Time Pass
Steve was very patient with everything. Fully supportive throughout everything from theory practice to practical lessons. Clear with instructions and explanations on what we were doing in each lesson. We planned lessons in advance, so I knew what to revise in advance using the workbook, website, videos and sending me extra websites and files to use and read alongside the LD System. I think without the help from Steve and the LD System I wouldn't have passed both my theory and practical tests first time. Steve was very supportive throughout all of it and made me feel comfortable even when making mistakes. Steve always made me understand where I went wrong and never made myself feel bad. I would like to thank Steve for teaching me, I had a great time learning how to drive, and without you as an instructor I wouldn't have passed. I would recommend Steve to anyone looking to learning to drive.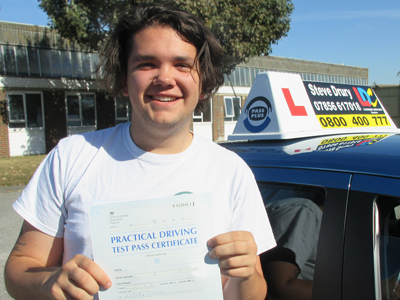 Ewan Jones
Well Deserved First Time Pass
I could not have asked for a better driving instructor than Steve. Not only was he clear with his instruction and supportive of overcoming obstacles; he was also very attentive to my personal idiosyncrasies and anxieties. Steve doesn't just teach you to pass, he will teach you to be a good driver.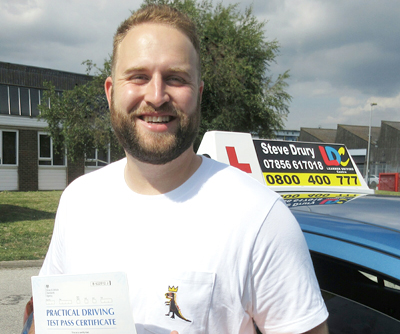 Ryan McDonough
Passed First Time
I would really like to thank Steve with his support, determination, flexibility and calmness in helping me become a safe driver and pass my test first time. We began an intensive one week pass course with an addition of an extra 10 hours, which I am glad we did. My lessons were designed really well and backed up with the self-study sessions using the handbook so I was prepared for each lesson. The system really worked for me and on the day of the test I felt confident and ready to apply all I had learned. Thank you Steve for all the help in making me a confident driver!
Maureen Baker
Retired and Refreshed
I learnt to drive some 20 plus years ago, but only drove for a couple of years, as living in Twickenham with buses, trains and underground at my disposal, I didn't need to use a car. Fast forward 20 plus years and having retired to Steyning with its lack of public transport, 1 bus every hour, I decided that I should take up driving again. Over the years confidence had waned and traffic increased. Steve took me on and with his patience, explanation of techniques, manoeuvres, etc and sense of humour, I have finally managed to get back to being independent again. The book and videos proved a great help and Steve often backed them up with other helpful videos/information.
Arron Colbourne
Passed, a skilled and safe drive
My instructor Steve was a great instructor. I would highly recommend him to any future student wanting to learn to drive.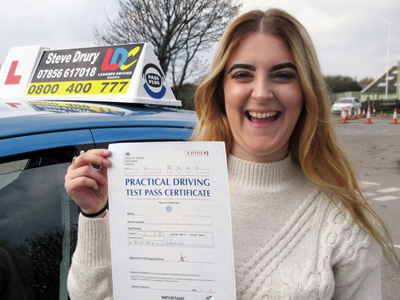 Lauren Eyre - Walker
Well Deserved First Time Pass
Steve has been a very patient and calm instructor – I'd had around 25 hours with a previous instructor, and in just over 20 hours with Steve I learned more than I can imagine and passed first time. I am over the moon with the help and support Steve provided and my only regret is that I didn't find him sooner. The workbook came in handy – especially when I was struggling to progress with something or about to learn something new. It was nice to know I always had the book to hand to review. The videos Steve sent to me were also useful and it is good to have unlimited usage to something where you can see the technique being done as often as is necessary. On my lessons with Steve, he did everything at my pace, around my time and made the adjustments that would benefit me. The LD System was such a breath of fresh air for me and it was so nice to know Steve always had learning materials in the car for us to take a moment, stop and review ready for the next step.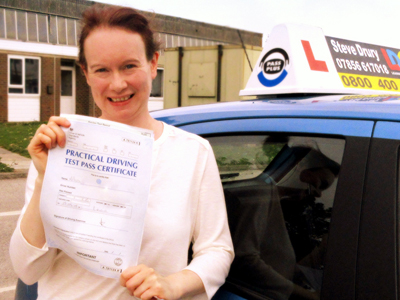 Rowena Fishwick
Brilliant Drive with minimal faults
Steve was a very patient, calm and supportive instructor. He let me learn at my own pace, encouraging me to take new challenges when I needed more confidence. He was always punctual and very flexible with lesson times. I always felt safe, knowing I could make mistakes safely and he always talked through any mistakes and challenges I faced. I found the online system helpful in preparing for lessons and being able to visualise manoeuvres and techniques. The Theory preparation was helpful, especially practising the Hazard Perception ahead of the test.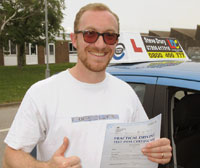 Andy Patton
Back in the Driving Seat
I am incredibly grateful to Steve for his support and guidance in helping me to pass my driving test. When I started lessons with Steve it was over 11 years since I had driven a car, but he took the skills I had learnt into account when planning my lessons. My lessons were designed to work on the areas that required focus and, particularly as we approached the test, we would plan the lessons together based on the areas where I wasn't so confident and needed work. I believe Steve's flexible approach helped me to pass the test quicker than I would have otherwise, but more importantly, have made me a safer driver. I found the LDC learning system was a great structure to work with, and the online videos, guidance and theory test questions were extremely useful. Thank you for all of your help Steve - I'll be driving my son to nursery in no time!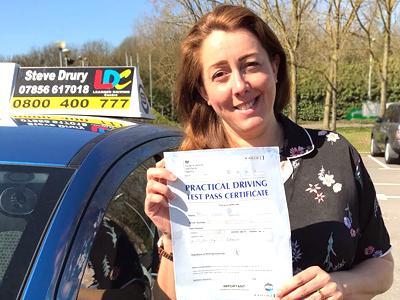 Laura Bennet
Excellent Drive and a Well Deserved Pass
What can I say! I'm delighted I have passed my driving test. I had a goal that I wanted to achieve and I did it with the help of my great, understanding, lovely instructor Steve. I can't thank him enough as he has taken me on a journey I thought I would never do. I've always been a bit nervous when it comes to driving due to a bad accident when I was young. I wanted to do this for myself and now I have a family of my own, I know how important driving is and how safe you have to be. Steve is a brilliant instructor; he is very calm and approachable, he will go into every little detail on what's right and wrong and I feel I have learnt a lot.
The driving school book was very helpful. It has everything you need to know and it's easy to find a subject you want to learn about. I looked a few times at the Theory Test online, but the DVD's were better for me, as I learn more watching than reading. I would recommend the LD System to anyone! Thanks again Steve for everything you have done, it's been a pleasure and I'll miss you.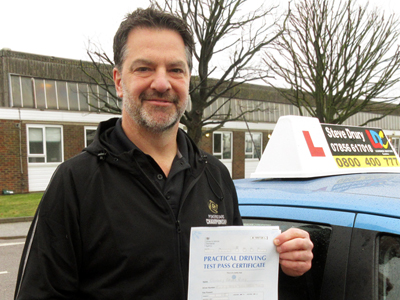 Greg Rudy
Changing an International Licence for a British One
Steve is Amazing. He was able to remove 30 years of old and not so good habits, so well, to get me a clean sheet on my test! His knowledge and patience was/is second to none. The videos, information and online tools were incredibly helpful. LDC is the way to learn. Highly recommended.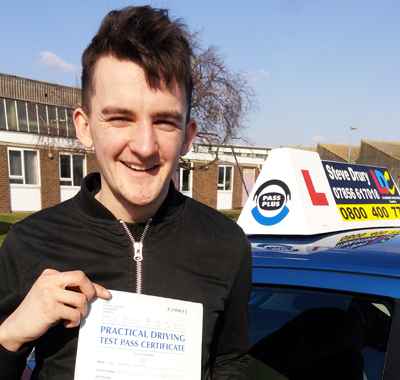 Daniel Gretton
Excellent Pass
Steve is a great instructor who really helps you understand the road and the car. I highly recommend Steve and the LD System as it lets you learn in a way that is comfortable for you. I received a workbook, many videos and diagrams to help me become a good driver, all thanks to Steve and the LD System.
Lyes Bernaoui
Passed First Time
Steve Drury was a great teacher. He proved to be a true professional, who knows how to teach practical driving. He explained driving techniques in a simple way so the learner can easily understand how to approach various road situations. Apart from being an excellent instructor, he is a very nice, friendly person. I enjoyed every lesson, passed the test first time and would certainly recommend Steve.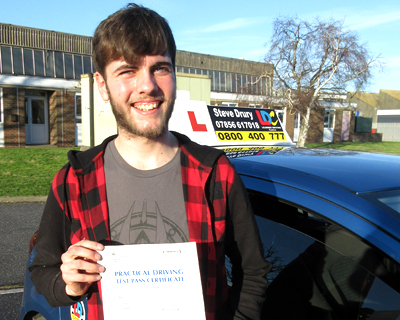 Max King
Excellent Drive & Passed First Time (theory and driving)
I have had an excellent time learning to drive with Steve and the LD system. Steve was consistently punctual and always gave me good notice when changes had to be made to our schedule which made this easy for me to get time off work. The first few lessons I had with him were great and I made lots of progress in them. After this, we decided to start a 20 hour intensive course. Steve made a schedule that started from October 2017 and finished in January 2018.
On the schedule that Steve gave me it had the dates, times, location and what we would be doing in the lesson. Knowing what we would be doing in the lesson was something I found useful because of the LDC student website and workbook. I was able to prepare myself for upcoming lessons and understand more about what I was learning to do through watching videos on the website and reading through the information alongside it. I found that this really helped me during the lessons.
The LDC Student website also helped me pass my theory test as there were mock theory tests and hazard perception tests that I used to revise before it. Steve always worked with me when I made mistakes by helping me understand what I had done wrong but never made me feel bad. I am thankful that I had Steve as an instructor while learning because I wouldn't have passed without him! Thanks for teaching me Steve, I had great fun learning how to drive with you.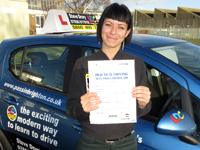 Yoana Nikolova
First Rate Drive
I had a lot of fun driving with Steve. He was very supportive the whole time and never made me feel bad when I would make a mistake. Always sending me videos and extra materials to make sure I'm fully prepared for the test. Also very flexible with his time and committed to his pupils. Thank you for the help Steve. I'm so pleased I'm finally a driver :D
Joe Jones
Passed with Flying Colours
I found Steve to be supportive, knowledgeable and very much invested in helping me pass. He customised his strategies to my needs and provided me with useful relevant resources to re-enforce my learning. I felt Steve's manner while teaching to be relaxed, informative and clear. I would and have recommended Steve to others.
Becky
Refresher Lessons
I passed my driving test 2 years ago with another instructor and had barely driven since. I was very nervous about getting back into driving. Steve definitely gave me the confidence to start driving again. He took into consideration what I needed and wanted to focus on for next lesson to ensure that I would get the most out of each of my lessons. Steve was great at discussing with me what I had done well and also, what I needed to improve on. He was very patient and was happy to spend as much time as I needed on anything before moving on. Steve was great at reminding me of the little things which will help me to become a safer and more efficient driver. He was always very professional and punctual throughout each of my lessons. My lessons with Steve were just what I needed to get back into driving again; in fact, as soon as I had my last lesson with Steve, I bought my first car (a matching white Vauxhall Corsa!!) and have been driving since. I would recommend Steve to anybody.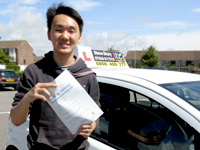 Jun Hou Yap
Excellent First Time Pass
Steve is a highly dedicated instructor. He pays attention to even the smallest details of your driving behavior and always has a good solution on how to correct the bad habits. I would not hesitate to recommend Steve to anyone that is looking for a driving instructor.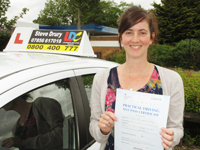 Diana Hall - Franzkowiak
Passed First Time (Theory and Driving Test)
The Online Theory Test preparations was fantastic. It was easy to use and as it has the same set up as the real test, it prepared me not only from a learning point of view but also to get familiar with the format of the test. Steve is a great instructor. I did a semi-intensive course, and he got me to pass first time. He is very conscientious and will take you through all aspects with great knowledge and with humour! Thanks Steve for teaching me.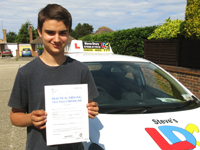 Ryan Scutchings
Passed First Time
Steve was always calm and helpful, and put me at ease before my test.