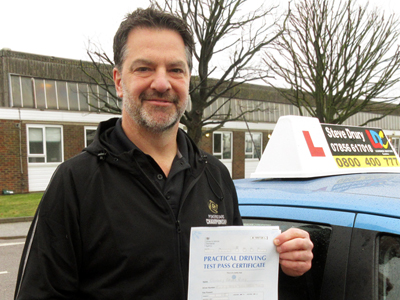 Greg Rudy
Changing an International Licence for a British One
Steve is Amazing. He was able to remove 30 years of old and not so good habits, so well, to get me a clean sheet on my test! His knowledge and patience was/is second to none. The videos, information and online tools were incredibly helpful. LDC is the way to learn. Highly recommended.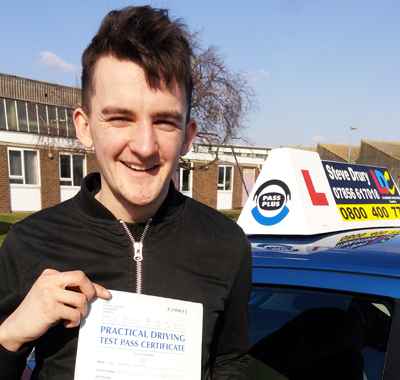 Daniel Gretton
Excellent Pass
Steve is a great instructor who really helps you understand the road and the car. I highly recommend Steve and the LD System as it lets you learn in a way that is comfortable for you. I received a workbook, many videos and diagrams to help me become a good driver, all thanks to Steve and the LD System.
Lyes Bernaoui
Passed First Time
Steve Drury was a great teacher. He proved to be a true professional, who knows how to teach practical driving. He explained driving techniques in a simple way so the learner can easily understand how to approach various road situations. Apart from being an excellent instructor, he is a very nice, friendly person. I enjoyed every lesson, passed the test first time and would certainly recommend Steve.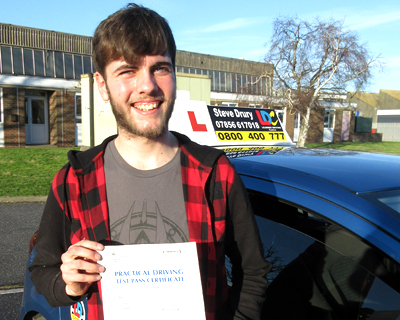 Max King
Excellent Drive & Passed First Time (theory and driving)
I have had an excellent time learning to drive with Steve and the LD system. Steve was consistently punctual and always gave me good notice when changes had to be made to our schedule which made this easy for me to get time off work. The first few lessons I had with him were great and I made lots of progress in them. After this, we decided to start a 20 hour intensive course. Steve made a schedule that started from October 2017 and finished in January 2018.
On the schedule that Steve gave me it had the dates, times, location and what we would be doing in the lesson. Knowing what we would be doing in the lesson was something I found useful because of the LDC student website and workbook. I was able to prepare myself for upcoming lessons and understand more about what I was learning to do through watching videos on the website and reading through the information alongside it. I found that this really helped me during the lessons.
The LDC Student website also helped me pass my theory test as there were mock theory tests and hazard perception tests that I used to revise before it. Steve always worked with me when I made mistakes by helping me understand what I had done wrong but never made me feel bad. I am thankful that I had Steve as an instructor while learning because I wouldn't have passed without him! Thanks for teaching me Steve, I had great fun learning how to drive with you.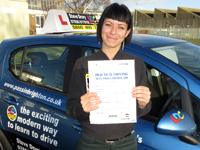 Yoana Nikolova
First Rate Drive
I had a lot of fun driving with Steve. He was very supportive the whole time and never made me feel bad when I would make a mistake. Always sending me videos and extra materials to make sure I'm fully prepared for the test. Also very flexible with his time and committed to his pupils. Thank you for the help Steve. I'm so pleased I'm finally a driver :D
Joe Jones
Passed with Flying Colours
I found Steve to be supportive, knowledgeable and very much invested in helping me pass. He customised his strategies to my needs and provided me with useful relevant resources to re-enforce my learning. I felt Steve's manner while teaching to be relaxed, informative and clear. I would and have recommended Steve to others.
Becky
Refresher Lessons
I passed my driving test 2 years ago with another instructor and had barely driven since. I was very nervous about getting back into driving. Steve definitely gave me the confidence to start driving again. He took into consideration what I needed and wanted to focus on for next lesson to ensure that I would get the most out of each of my lessons. Steve was great at discussing with me what I had done well and also, what I needed to improve on. He was very patient and was happy to spend as much time as I needed on anything before moving on. Steve was great at reminding me of the little things which will help me to become a safer and more efficient driver. He was always very professional and punctual throughout each of my lessons. My lessons with Steve were just what I needed to get back into driving again; in fact, as soon as I had my last lesson with Steve, I bought my first car (a matching white Vauxhall Corsa!!) and have been driving since. I would recommend Steve to anybody.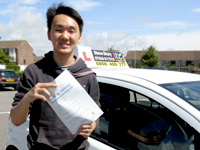 Jun Hou Yap
Excellent First Time Pass
Steve is a highly dedicated instructor. He pays attention to even the smallest details of your driving behavior and always has a good solution on how to correct the bad habits. I would not hesitate to recommend Steve to anyone that is looking for a driving instructor.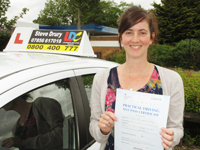 Diana Hall - Franzkowiak
Passed First Time (Theory and Driving Test)
The Online Theory Test preparations was fantastic. It was easy to use and as it has the same set up as the real test, it prepared me not only from a learning point of view but also to get familiar with the format of the test. Steve is a great instructor. I did a semi-intensive course, and he got me to pass first time. He is very conscientious and will take you through all aspects with great knowledge and with humour! Thanks Steve for teaching me.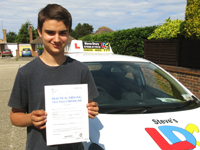 Ryan Scutchings
Passed First Time
Steve was always calm and helpful, and put me at ease before my test.